And now, even more exclusive looks at the upcoming rr80 mounts in Part Two of my interview with Mythic.
(*Editor's note: Hey, High Elves, quit your bitching. Seriously. I'll get to you. Everyone knows that you're the bastard redheaded stepchild race that no one really wanted. Wear your
buckets
and STFU.)
Spider Love: "What's the hold-up with the Ridin' Squig?"
"CG": "We're discussing a remodel of the mount."
Spider: "Why's that? Does it run off in the completely opposite direction you want it to?"
"CG": "No. Do you know what a Ridin' Squig is supposed to look like?"
Spider: "Yeah, a big fat bloated mutant frog monster."
"CG": "Exactly, and that's what we were shooting for. Unfortunately, it looks a little too... life-like."
GOBLIN SQUIG HERDER RIDIN' SQUIG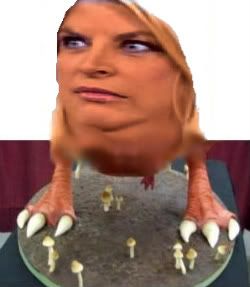 Spider: "Kirstie Alley?"
"CG": "We're also experiencing some problems with another Greenskin mount."
Spider: "Yes, what's up with the Black Orcmobile?"
"CG": "It's completely filling up the screen and is so loud it makes your ears bleed."
BLACK ORC MONSTA TRUKK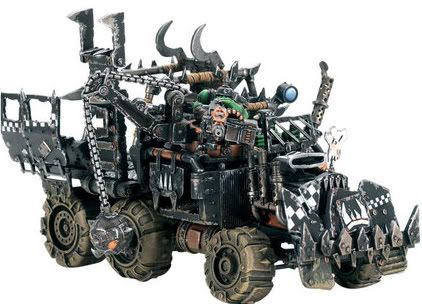 Spider: "Oh, good. Another reason I'd rather just have Chosen around. Do the Sorcs get a mount? Giant purple pancakes of death? Do they crap out ice bridges like Bobby Drake?"
"CG": "They get a mount. We originally were going to give them Dark Steeds."
Spider: "Horses are boring!"
"CG": "Yeah, so we gave them something more exotic, something sleek and dangerous."
DARK ELF SORCERER TIGER FROM THE AGE OF CONAN
Spider: "Hey, that's the tiger from the new Age of Conan expansion they just released! Why'd you steal their tiger?"
"CG": "
Because f*** Age of Conan
. That's why. F*** those guys."
Spider: "..."
"CG": "Would you like to hear about the mounts for the Disciples of Khaine?"
Spider: "Sure, I'd like to know what 85% of the server will be riding."
"CG": "Khaine's champions will ride in style on a savage killing machine of a beast, the ultimate predator, a Carnosaur, twisted by the Hand of the Murder God himself into his own image, given the
Face of Khaine
!"
Spider: "Relax, Rod Roddy, just show me the Khainosaur"
DARK ELF DISCIPLE OF KHAINE CARNOSAUR OF KHAINE