SOURCE REVEALS EXCLUSIVE FEATURES OF UPCOMING EXPANSION
In this part of my interview with anonymous Mythic Source "CG", we discuss some of the things they're working on bringing to the game in the upcoming expansion, Warhammer Online: Even More Reckoning.
Spider Love, Best Warhammer Blogger Ever: "One of the things we talked about earlier was bringing some of the really popular features from the MMO genre into Warhammer."
"CG", Supersecret Mythic Source: "Yes, you wanted mounted combat."
Spider Love: "Is that something we might see in the expansion?"
"CG": "No."
Spider: "What about my idea for dual-classing, where players can spec into a secondary class and grab some of their abilities?"
"CG": "That would probably be a very bad idea."
Spider: "That would be an awesome idea. I want my Blackguard to learn Squig Herder skills, it would make him a Dark Elf Beastmaster."
"CG": "You're very dorky. We can't do that."
DARK ELF HYDRA HERDER TANK-RDPS-PET CLASS
Spider: "What about player housing?"
"CG": [Laughs]
Spider: "I want a
beach bungalow
I can bring witches to."
CG: "Not happening."
Spider: "Seriously, why can't you do housing like they have in LOTRO? They have instanced housing areas you can customize with trophies and stuff."
"CG": "You want us to put time and effort into that so you can show off fish trophies?"
Spider: "Well, no, the trophies would be cool. It would be like, 'Hey guys, come over and check out this rare drop
Head of Dalor
."
CG: "No."
PLAYER HOUSING: NO
Spider: "Not even guild housing? You couldn't make the Ghost Forts into Alliance Strongholds or something?"
"CG": "No, god damn it, we're not doing any housing."
Spider: "I want to destroy other guilds' homes."
"CG": "We're not doing that."
Spider: "Or like, sneak into their bedrooms and Crock all over their stuff."
CG: "No."
IM IN UR BASE, CROCKING UR STUFF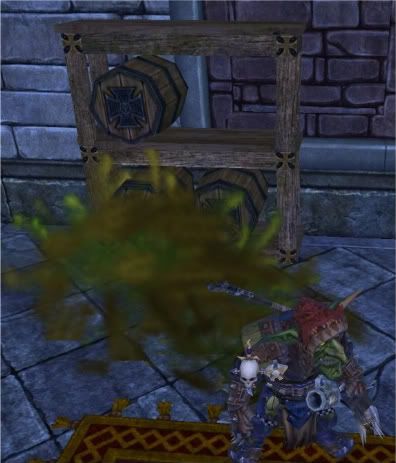 Spider: "So, are there any other sort of classic MMO features you plan on adding?"
"CG": "We're hard at work coding a Marriage feature."
GAY MARRIAGE THREEWAYS: YES